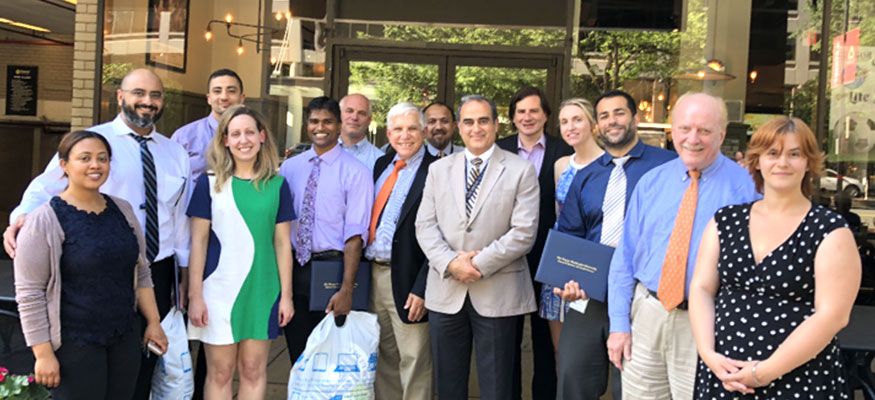 The Division of Pulmonary, Critical Care, and Sleep Disorders Medicine at The George Washington University is proud to offer a three-year training program in pulmonary and critical care medicine in the heart of the nation's capital. Twenty full-time pulmonary critical care or intensivists at the George Washington University Medical Center and the Washington DC VA Medical Center work to ensure a strong environment for clinical education and research.
---
Directors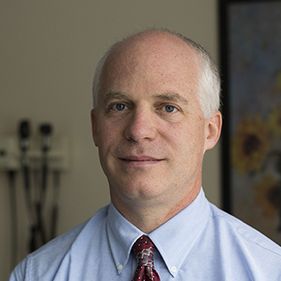 Division Director:
Daniel Baram MD
Fellowship Director:
Jalil Ahari, MD
---
Virtual Tour: Pulmonary and Critical Care Medicine
Thank you for your interest in our Pulmonary and Critical Care Medicine fellowship program. While we wish we could be meeting you in person, we are thrilled to offer you this virtual tour as an opportunity to see and learn more about the facilities and resources available to our fellows. Use the setting wheel icon in the top right corner to turn on the narration and the arrows at the bottom of the photos to see each stop. Click on the information buttons in the pictures to learn more about specific spaces and features. Click the gray icon in the top left corner for a full-screen view.
Program Structure
Rotation Schedule
 

Pulmonary
GWU, VA,

ICU
GWU

MICU
VA

PFT/
Research

Pulm/Sleep Clinic
GWU

Thoracic Sugery

Transplant

PGY 4
16 to 18 wks
3
14
15
6 wks
 
 
PGY 5
8 to 12 wks
3
14
11
6 wks
2 wks
 
PGY 6
8 to 12 wks
6 wks
14
6
6 wks
 
4
Education
The educational program includes experience in inpatient and outpatient care, pulmonary rehabilitation, formal chest X-ray reading sessions, pulmonary pathology sessions, pulmonary-radiology-surgical chest conferences, pulmonary physiology conferences, sleep-related pulmonary conferences, critical care medicine conferences, and journal club-research conferences. During training, fellows receive close supervision by the faculty. The ratio of faculty to trainees exceeds 1:1 at each of the institutions.
Pulmonary Experience
Inpatient - The inpatient training experience for fellows is enriched by two training sites with complementary experiences. At The George Washington University Hospital, the pulmonary fellow leads an inpatient house staff team (the "Blue team") charged with the care of patients with primarily pulmonary diagnoses. These include pneumonia, asthma or chronic obstructive pulmonary disease exacerbation, parenchymal lung diseases, pulmonary embolism, as well as less common conditions. The same fellow provides consultative services for other inpatients, and performs procedures such as bronchoscopy or thoracentesis.
One unique resource available at the GW University Hospital is the Pulmonary Care Unit, created in 2004. The Pulmonary Care Unit has a dedicated nurse, capacity for four patients, and continuous pulse oximetry and EKG monitoring. Having these resources available outside of the intensive care unit allows for initiation of non-invasive ventilation and management of patients who require frequent nebulizer treatments or close monitoring.
The pulmonary consult service at the VA Medical Center operates as a classic inpatient consultative service. Routinely performed procedures include bronchoscopies with biopsies, endobronchial ultrasound-guided lymph node aspirations, percutaneous needle biopsies of lung lesions, pleural biopsies, chest tube placement and initiation of non-invasive ventilation. Guidance is also provided in examination and interpretation of sputum, bronchopulmonary secretions, pleural fluid/tissue, and lung tissue for infectious agents, cytology, and histopathology.
Outpatient - Throughout their three years, each trainee obtains experience in caring for pulmonary outpatients at the VA Medical Center and the GW Medical Faculty Associates, with supervision provided by the attending staff. These clinics also provide an opportunity to follow patients after they have been discharged from the hospital. First-year and second-year fellows typically have their continuity clinic at the VA, whereas third-year fellows typically have their clinic at GW. This system maximizes continuity of care while also providing exposure to the diversity of clinical conditions and patient demographics at the two institutions.
There is also a multidisciplinary neuromuscular disease clinic at GW in which pulmonary fellows can gain elective experience in, for example, the respiratory issues experienced by patients with amyotrophic lateral sclerosis.
Critical Care Experience
The Medical Intensive Care Unit at the VA Medical Center provides an opportunity for fellows to care for critically ill veterans. A wide variety of medical illnesses are encountered, and fellows work under the supervision of attending staff from the Division of Pulmonary and Critical Care Medicine.
The Intensive Care Unit at the George Washington University Hospital is a large, multidisciplinary ICU located on three different floors. The hospital is a city-designated Level 1 trauma center located seven blocks from the White House. During the GW ICU rotation, pulmonary and critical care fellows are responsible for the management of patients with a variety of medical, surgical, or neurosurgical conditions. The training experience is enriched by close interaction with attending staff, other critical care fellows, and house staff, who together represent a variety of backgrounds including general surgery, anesthesiology, and internal medicine.
The fellowship program is designed to provide each trainee with sufficient exposure to critical care medicine. This learning process includes acquiring the cognitive skills to evaluate and manage critically ill patients, as well as the procedural skills such as endotracheal intubation and right heart catheterization. Since The GW University Hospital has an active cardiac catheterization lab and cardiothoracic surgery program, fellows also gain experience in the management of patients on intra-aortic balloon pulsation and extra-corporeal membrane oxygenation.
Physiology
All training sites have pulmonary function laboratories capable of doing spirometry, flow volume studies, lung volumes, diffusing capacity, arterial blood gas analysis and exercise studies. During the course of three years, two to three months are spent in the pulmonary function lab at the VAMC learning how to perform and interpret tests, as well as to evaluate their acceptability and reproducibility. Fellows supervise inhalation challenge and exercise tests.
Fellows are expected to initiate clinical research protocols during their PFT/research rotation. During this rotation, trainees also have time to attend Sleep Clinic, or gain experience in endotracheal intubation with anesthesiologists.
Lung Transplantation
Early in their third year of fellowship, fellows rotate through INOVA Fairfax Hospital's Advanced Lung Disease and Transplant Program. Fellows from GW as well as other medical centers are involved in all aspects of care — evaluation of potential lung transplantation candidates, evaluation of potential lung donors, observation of lung transplant surgery and management of lung transplant recipients in the peri-operative period and in the outpatient setting. Experience is also gained in management of patients with pulmonary hypertension receiving continuous infusion of prostacyclin.
Academic Presentations
Fellows present at least two topics each year at the weekly core curriculum lecture series at GW. Typically one of these topics is a pulmonary topic; the other is in critical care.
Fellows also take turns presenting interesting clinical cases at the quarterly meetings of the Metropolitan DC Thoracic Society, which is an official chapter of the American Thoracic Society. These meetings take place at the neighboring institutions including Howard University, Georgetown University, the Walter Reed National Military Medical Center, as well as at GW.
Additionally, academic presentations and journal clubs are given by the fellows rotating at the VA Medical Center.
Teaching
Fellows are integral to our academic mission of training residents and educating students. While on the inpatient pulmonary service at GW, fellows lead the house staff team and are expected to actively teach the other members of the team. The intensive care units of both GW and the VA Medical Center represent prime opportunities to teach and discuss physiology and other aspects of patient management. The Division of Pulmonary, Critical Care, and Sleep Medicine has been honored to have our fellows' repeatedly recognized as outstanding by the GW Internal Medicine House Staff.
Application Information
Applications are only accepted through the Electronic Residency Applications Service (ERAS).
---
The candidate must register for both ERAS and the National Residency Match Program (NRMP). A candidate who has not registered with the NRMP cannot be considered during the ranking process. It is very important to remember to register.
---
Requirements for GW Fellowships
Fellowship applicants must have completed three years in an ACGME-Accredited Internal Medicine Residency, and be board-certified or board-eligible.
Required Documents for Complete myERAS Application
myERAS application
Curriculum Vitae (CV)
Personal Statement
Three Letters of Recommendation (one from the program director)
USMLE / COMLEX Scores (must have passed Steps I-III prior to start of fellowship year)
Medical Student Performance Evaluation (MSPE)
ECFMG Status Report for International Medical Graduates (must have certification)
Licensing Information and Board-Eligibility/Certifications (if applicable)
Citizenship Status
---
International Medical Graduates
We can only consider applicants with J1 visas. Please see our GME Visa policy.
IMGs must have completed an ACGME-accredited residency program.
Graduates of International Medical Schools must also be certified by the Educational Commission for Foreign Medical Graduates (ECFMG).
---
For more information, please visit the GW Graduate Medical Education website.
Research
Direct involvement of every trainee in a research program enhances scholarly development, provides a foundation for logical and critical thinking, and encourages life-long habits of continuing scholarship. Through his or her research experience, each trainee will learn the design and interpretation of research studies, the evaluation of investigative methods, and the interpretation of data to develop competence in critical assessment of the medical literature. Fellows are given formal lectures on basic and functions of research.
During their first year, fellows are introduced to the research interest of the faculty. It is expected that during this year, each trainee will discuss projects with various faculty members and then decide on a research focus. One faculty member acts as a preceptor for the project and will meet frequently with the trainee to review his or her work. Research collaboration between multiple centers are strongly encouraged. It is fully expected that a trainee will initiate and complete one or two projects, including a quality improvement project (QI) during the fellowship training. Projects may include topics in pulmonary, critical care and sleep medicine. Fellows will have the opportunity to explore research ideas with basic sciences professor in the department of medicine. Throughout the years fellows have been involved in book chapter, review articles and clinical trials. Funding will be available to permit each trainee to present an accepted paper or abstract at regional or national meetings.
Clinical Conferences
The core-curriculum conference is held every Thursday at the GWU site, and is attended by all fellows in the program, either in person or via videoconference. Over a period of three years, all major topics related to pulmonary and critical care medicine are covered.
Multiple conferences are held regularly at GWU and VAMC sites. These conferences include book chapter review, tumor board, radiology and Journal club. In addition, fellows are participating in quarterly DC Thoracic Society (DCTS) meetings with other academic institutions.
Faculty
Jalil Ahari, MD
Associate Professor of Medicine
Fellowship Director
George Washington University Hospital
Daniel Baram, MD
Associate Professor of Medicine
Director, Division of Pulmonary Medicine
George Washington University Hospital

Morgan Delaney, MD
Assistant Professor of Medicine and of Pharmacology and Physiology
George Washington University Hospital

Khalil Diab
Associate professor of medicine
Division of Pulmonary Critical Care and Sleep Disorder Medicine
Director of the international pulmonology

Guillermo Gutierrez, MD
Professor of Medicine and of Anesthesiology
George Washington University Hospital

Vivek Jain, MD
Assistant Professor of Medicine
George Washington University Hospital

Phue Khaing
Assistant Professor of Medicine
Division of Pulmonary Critical Care and Sleep Disorder Medicine

Rahul Khosla, MD
Veteran Affairs Medical Center, Staff Physician
Veterans Affairs Medical Center
Michael Seneff, MD
Associate Professor of Anesthesiology and Critical Care Medicine
George Washington University Hospital

Kavita Vyas, MD
Assistant Professor of Medicine
Veterans Affairs Medical Center