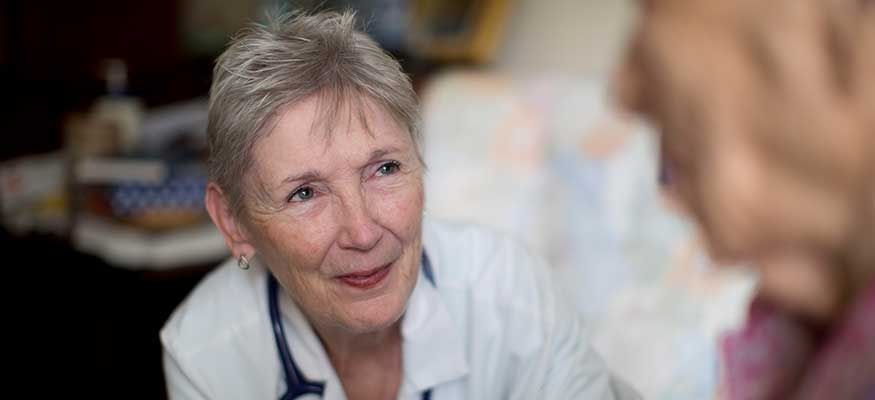 Explore the broad range of patient care services available within the Geriatrics and Palliative Medicine division. 
Comprehensive Geriatric Clinic

Our comprehensive outpatient geriatric clinic supports frail and high-risk older adults. We provide primary care for older adults in our community, comprehensive consults, and support other clinicians to provide care for seniors in the Washington, D.C. community. The Geriatric Team consists of Board-Certified Geriatricians, Board Certified Internal Medicine and Family Practice Physicians, Physician Assistants, Nurse Practitioners, Social Workers, a nurse and administrators. We welcome and support clinical education and include students, residents, and fellows who enhance the dynamic nature of the patient care team.

Our clinicians are:

Involved in cutting edge research in geriatric medicine
Part of a care continuum that provides care in the clinic, hospital, and in some cases, their homes
Involved with patient care within the clinic, hospital, home and nursing care facilities
Leaders in our health system and medical education

Housecalls Program

The GW MFA Medical House Call Program provides hands-on, high quality medical care to hundreds of older adults who have difficulty leaving their homes. We strive to improve the quality of life of homebound persons, as well as their caregivers, offering them best possible service and practical support, regardless of their financial resources.

As part of the Division of Geriatrics and Palliative Medicine of the George Washington University Medical Faculty Associates, we believe our mission is to educate physicians and health care providers of tomorrow about the complex needs of the homebound.

For homebound patients we provide the following services:

Preventive health care
Diagnosis and treatment of medical conditions
Prescription of medications, with an emphasis on safety and affordability
Support to family members and other caregivers
Referrals for rehabilitation
Assistance with practical needs, including wheelchairs
Pain management
Comprehensive, patient-centered end-of-life care for the terminally ill

Watch the GW Housecall Program Video

Memory Evaluation and Treatment Clinic

Our Geriatric Memory Clinic team comprehensively evaluates persons with concern for memory loss or established dementia to provide quality care around what matters. We recognize how memory conditions can affect many aspects of life. Our aim is to provide resources and interventions that promote improvements in cognition and longevity through a combination of pharmacological and non-pharmacological approaches. Our team works with patients and their support system to identify what matters most and tailor a plan of care that best supports an improved quality of life and identifies areas where assistance can be beneficial. Some of these areas include:

Optimizing opportunities to remain independent
Identifying person specific strategies to slow cognitive loss and functional decline
Creating safe home environments and optimizing safe mobility within your community
Performing comprehensive review of medications that may increase risk of poor cognitive functioning or undesirable outcomes
Developing care plans for behavioral changes associated with dementia
Supporting patients and caregivers across the continuum of life with memory disorders
Planning for future health care decisions through advance care planning

 

Our team sees persons for a variety of memory and mood concerns such as:

Suspected Alzheimer's Disease and other dementias
Progressive Alzheimer's Disease and other dementias
Recent episodes of confusion or delirium during hospitalization
Mood disturbances or behavioral abnormalities in late life
Behavioral changes related to Alzheimer's Disease and other dementias
Concerns about competency or safety for independent living

Learn more about the GW MFA Memory Clinic

 

Palliative Medicine Program

Our palliative medicine program provides specialized outpatient symptom management for persons living with serious or chronic illness and assistance with advance care planning through the Supportive and Palliative Care Clinic (SAPC). Our clinical team focuses on the person beyond the disease, with an emphasis on what matters to them and how their beliefs and values inform their preferences for care. We prioritize the needs of the patient, rather than the prognosis, and can provide care any time during the course of illness to provide relief from the symptoms and stress of illness. Palliative medicine provides another layer of support to a patient and their treatment teams to minimize suffering at any time during the course of illness. Our MFA team provides palliative consultation to the GW ALS clinic and GW Cancer Center in the outpatient Supportive and Palliative Care Clinic and inpatient consultation services at the George Washington University Hospital for any seriously ill patient. Our VA team's inpatient and outpatient consultation services support the needs of veterans across the VA system.

Hospital Based Programs

At the George Washington University Hospital, inpatient consult teams support clinicians to provide high quality care for persons with acute and serious illness.

Inpatient Geriatric Medicine Consult Service at the George Washington University Hospital

The inpatient geriatric medicine consult service provides consultative care for sick and injured older adults at GWU Hospital. This teaching service provides an opportunity for students, residents, and fellows to learn how to approach the care of older adults through the lens of a geriatrician, focusing on function, care transitions, and whole person care through patient-centered care plans that focus on what matters to patients and their families.

Our team supports quality improvement and clinical practice innovation through partnership with the GW Center for Trauma and Critical Care and supports all clinical services in the hospital.

Inpatient Palliative Medicine Program at the George Washington University Hospital

The inpatient Palliative Medicine program at GWU Hospital is an interdisciplinary team dedicated to the care of seriously ill patients throughout the hospital. As consultants, palliative physicians, advanced practice providers and social workers work directly with patients, their providers and families to help create care plans focused on individuals' health care values and improving quality of life. Palliative providers have expertise in advanced symptom management, serious illness communication, care coordination and end-of-life care.

The Palliative Medicine team welcomes health professional students, residents and fellows to learn these skills during clinical rotations. The Palliative Medicine program also partners with clinical leaders across the enterprise to promote excellence in serious illness care.

Center for Integrative Medicine

Integrative, complementary, or alternative medicine and modalities are distinct from Western, conventional, or allopathic medicine in that many arose from Eastern philosophy and from a different view of the genesis of illness, healing, and body mechanics. "Integrative" and "complementary" refer to the action of combining alternative modalities among themselves, as well as with conventional treatments, for maximum healing effect to enhance the natural healing capacity of the human being. At the GW Center for Integrative Medicine (CIM), providers evaluate the effectiveness of modalities, seek validation in supporting research data, and recommend a combination and sequence of modalities based on each individual to provide truly whole-person care. CIM believes in equality, equity, social justice, human rights and unconditional healing and is committed to providing integrative medicine care to all persons with kindness and compassion.

DC VA Medical Center

At the DC VA Medical Center, our team provides comprehensive care for aging seniors and veterans with chronic or serious illness. Our comprehensive outpatient geriatrics clinic and palliative medicine clinic work in partnership with patients and their families to meet their unique needs, improve quality of life, and develop patient-focused care plans informed by what matters to them.

An inpatient geriatric and palliative consult team supports clinical teams in the hospital to meet the needs of veterans during the time of acute illness and focuses on minimizing suffering from the symptoms or stress of illness and developing care plans that focus on function and quality of life. In the community, the VA Home Based Primary Care Team works with multiple disciplines to support our frailest veterans whose priority it is to remain at home in the setting of serious illness. Additionally, at the CLC (nursing home) our clinical team provides high-quality care for veterans living in long term care and provides hospice care at end of life.

Across the continuum, clinicians work in interdisciplinary teams with physicians, physician assistants, nurses, and administrators to deliver high quality care for our nation's veterans in the VA health system.