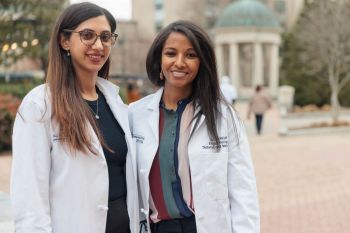 Welcome to the George Washington University Endocrinology, Diabetes, and Metabolism Fellowship Training Program. Located in Washington, D.C., our program draws upon the diverse training of both the George Washington University and the Veteran's Affairs Medical Center (VAMC). View the "Day in the Life of a Fellow" videos for a glimpse of what our fellows do at GW and the VA during their fellowship. Also visit the Structure tab to learn more about the program. Additionally, our fellows rotate at both Children's National Hospital and the National Institutes of Health in the second year of fellowship. The breadth of cases seen in this fellowship leads our fellows to have broad exposure to endocrinological disorders, both common and rare. Upon graduation, our fellows are clinically astute and ready to enter academic, community, or private practice. 
Overview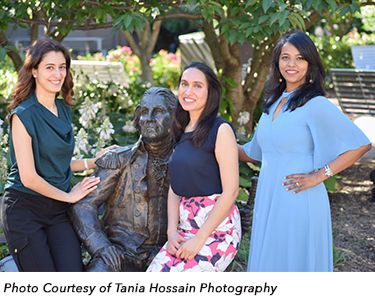 The two-year training program enables trainees to develop the clinical competence and procedural skills necessary in order to practice endocrinology independently. In addition, fellowship provides an opportunity for trainees to develop their teaching skills, clinical and laboratory research skills, and personal educational skills that will prepare them for continuing professional growth after formal training has been completed.
The goals, content, and evaluation processes of the program are governed by the requirements of the American Board of Internal Medicine (ABIM) and the Accreditation Council for Graduate Medical Education (ACGME). Satisfactory completion of the training program fulfills the requirements for entrance to the certifying exam in Endocrinology, Diabetes and Metabolism administered by the ABIM.
Program Goals
The endocrinology fellowship program at George Washington University and the VA Medical Center aims for its trainees to develop:
An understanding of basic endocrine physiology. The trainee should understand normal endocrine molecular biology, biochemistry and physiology, and be able to apply those concepts to understand endocrine disease mechanisms.
A thorough knowledge of the approach to the evaluation and diagnosis of patients presenting with endocrine disorders and complaints.
An understanding of treatment and management strategies for endocrine disorders.
Technical skills to perform thyroid ultrasound and fine needle aspiration (FNA) biopsy, dynamic testing, insulin pump therapy, continuous glucose monitoring, DXA interpretation and other skills needed for endocrine practice.
The ability to interpret diagnostic studies, including hormonal testing and imaging studies.
Skill in the planning, performance and presentation of clinical, translational and laboratory research in endocrinology and metabolism.
Skills to design, initiate and perform Quality Improvement projects related to clinical endocrinology.
Skills in educating physicians, other health care professionals, patients, and lay persons about endocrine disease.
Clinical Training
The fellowship program is structured such that medical knowledge and skills pertaining to endocrine and metabolic diseases are acquired through supervised clinical experiences and formal education. 
Clinical competence is developed through a structured system of learning from patients with endocrine diseases and from formal and informal didactic sessions. The clinical education program is based upon several concepts:
Trainees are primarily in the program to learn
Gradually progressive responsibility for patient care is an important part of learning.
Attending physicians are responsible for the quality of patient care and the teaching process.
Patient contacts must be numerous and varied.  They include inpatients and outpatients with as much variety as the institution can provide. 
Continuity of care is a valuable learning tool.
Teaching conducted by trainees is a valuable learning tool. 
Our alumni graduates have gone on to successful careers in various positions throughout the United States and the world (see the Fellows tab to see where our fellows have gone next).
Thank you for your interest in our program. Please do not hesitate to contact us with any questions.
Nadine El-Asmar, MD
Fellowship Program Director
Endocrinology, Diabetes, and Metabolism
George Washington University
imfellowships@gwu.edu
Application Process
Application Information
Applications are only accepted through the Electronic Residency Applications Service (ERAS).
The candidate must register for both ERAS and the National Residency Match Program (NRMP). A candidate who has not registered with the NRMP cannot be considered during the ranking process. It is very important to remember to register.
---
Requirements for GW Fellowships
Fellowship applicants must have completed three years in an ACGME-Accredited Internal Medicine Residency, and be board-certified or board-eligible.
Required Documents for Complete myERAS Application
myERAS application
Curriculum Vitae (CV)
Personal Statement
Three Letters of Recommendation (one from the program director)
USMLE / COMLEX Scores (must have passed Steps I-III prior to start of fellowship year)
Medical Student Performance Evaluation (MSPE)
ECFMG Status Report for International Medical Graduates (must have certification)
Licensing Information and Board-Eligibility/Certifications (if applicable)
Citizenship Status
---
International Medical Graduates
We can only consider applicants with J1 visas. Please see our GME Visa policy.
IMGs must have completed an ACGME-accredited residency program.
Graduates of International Medical Schools must also be certified by the Educational Commission for Foreign Medical Graduates (ECFMG).
---
If you have any questions, please contact Lisa Horvath at 202.677.6056 or imfellowships@gwu.edu.
Virtual Tour: Endocrinology & Metabolism Fellowship
Thank you for your interest in our Endocrinology, Diabetes, & Metabolism fellowship program. We are thrilled to offer you this virtual tour as an opportunity to see and learn more about the facilities and resources available to our fellows.
Program Structure
Year One
The first year of the endocrine fellowship emphasizes the pathophysiology of endocrine disorders, structured overview of endocrine and metabolic diseases, and progressive improvement of clinical skills including history, physical examination, the diagnostic evaluation, and the therapy of these disorders. During this year, fellows are introduced to endocrine procedures including sonography of the neck, fine needle aspiration of thyroid lesions, stimulation and suppression testing, insulin pump therapy and using continuous glucose monitoring devices.
Fellows are expected to become familiar with the major endocrine literature, to become skilled in searching the published medical literature and to become proficient in analyzing articles in order to extract and summarize methods and results, and critique the major findings and conclusions.
During their first year, fellows are expected to choose a faculty mentor and initiate their research and quality improvement projects. One month of the first year is devoted to initiation of research as well an elective.
Year Two
The major clinical goal of the second year is to prepare fellows to be independent practitioners. To that end, senior fellows are given increasing responsibilities. They are expected to master the clinical skills that were introduced during their first year of fellowship. They are expected to progress in their teaching skills and improve their own lecture skills. They are expected to teach the junior fellows, as well as the residents and students who rotate through the endocrinology service.
Children's National Hospital

Second-year fellows spend one month at Children's National Hospital. The goal of the rotation is to see children and adolescents with endocrinologic and metabolic disorders, learning how to care for them and transition care into adulthood. Fellows take part in the outpatient clinics there as well as didactics. Additionally, one week is spent on the inpatient service.

National Institutes of Health

Second-year fellows spend one month at the National Institutes of Health, National Institute of Diabetes, Digestive, and Kidney Disease (NIDDK) inpatient service. Goals of the rotation are to identify, work on and diagnose rarer endocrinological disease and treatment in a specialty research center. Fellows will be exposed to rare and non-rare endocrinological disorders and become familiar with the inpatient research protocols at the NIDDK. Fellows will participate in all didactics and presentations at NIDDK while on the rotation.
Rotation Schedule
The rotation schedule is based on 5 fellows.
Year One
Veterans' Affairs Medical Center (VAMC)
5 months
George Washington University School of Medicine and Health Sciences (GW)
5 months
Clinical/Research Elective
1 month
Vacation
4 weeks
Year Two
Veterans Affairs Medical Center (VAMC)
4 months
George Washington University School of Medicine and Health Sciences (GW)
3 months
Pediatric Endocrinology at Children's National Hospital
1 month
Clinical Elective/Research Elective
2 months
Vacation
4 weeks
National Institutes of Health (NIH)
1 month
GW School of Medicine and Health Sciences
In-Patient Consults

Accordion content 1.

Endocrine Clinics

New accordion content

Call at GW and VA Hospitals

New accordion content

Ultrasonography and Fine Needle Aspiration

Accordion content 2.
The Veterans Affairs Medical Center
In-patient Services

The Endocrine fellow assigned to the in-patient consultation service is responsible for managing the in-patient service. The fellow is expected to perform an initial evaluation on patients referred to the service or to supervise residents and students rotating on the endocrine service. All patients seen in consultation are presented to the attending physician supervising the in-patient service.

Endocrine and Diabetes Clinics

There are half-day endocrine and diabetes clinics on Tuesday afternoons and Friday mornings with continuity clinics on Wednesday mornings. Clinics may take place in-person, by video, or by phone. The fellows on the VAMC rotation attend all of these clinics during the week. Patients seen by the fellow must be discussed with a supervising attending physician for the care plan, follow-up, and teaching.

Fine Needle Aspirations (FNA)

Thyroid biopsies are performed with ultrasound guidance supervised by an attending endocrinologist. The fellow schedules this activity, ensures that an informed consent has been recorded in the EMR and that the equipment for the procedure is available. The fellow is responsible for writing a procedure note on the hospital chart that includes the indications for the biopsy, the procedure, and complications if any.

Telemedicine

The VAMC has a telehealth program which allows patients to send clinical data from their home phone to the medical center. The Division of Endocrinology uses this capability for a number of diabetic patients who transmit their daily finger stick blood sugar logs through the system. Since 2020, the VA has utilized video and phone telemedicine appointments for patients.
 General Rotation Information
Fellows Continuity Clinics

All fellows participate in continuity clinics weekly on Wednesday mornings at the VAMC and on Thursday afternoons at the GW Medical Faculty Associates Ambulatory Care Center (ACC). Fellows are expected to attend their continuity clinics each week throughout their entire fellowship (except when out of town) including during clinical elective and research rotations.

The fellows are the primary endocrinologists for their continuity clinic patients and are responsible for all aspects of their patients' care including ordering tests, reviewing test results, communicating with patients and referring physicians, ordering and renewing medications, etc.

Clinical/Research Elective

Clinical electives are chosen by each endocrine fellow with approval of the Program Director. Electives may include nuclear medicine, ophthalmology, surgical pathology, clinical pathology, bariatric surgery, or a combination of clinics. Most second year fellows choose to do a 2-4 week elective in reproductive endocrinology. Additionally, second year fellows also have the option of rotating through an advanced thyroid cancer clinic at Washington Hospital Center. 

Research time is devoted to research projects that the fellow is participating in and serves as a time where that can be the focus. The fellow still goes to their two continuity clinics. Research and quality improvement projects are chosen with the help of the fellow's mentor and faculty members. 
Conferences
 
Monday
Tuesday
Wednesday
      Thursday
Friday
8:00
Endocrinology Grand Rounds
GW
(Virtual)

 

 

Endocrinology Conference
Hosted by WHC, Attend when at VA
(Virtual)

 

 

 
 
DXA Review
2300 M Street
(first Friday of the month)
 
11:00
 
Thyroid Conference
Hosted by WHC, Attend when at VA
(Virtual)

 

 

 
 
 
12:00
 
 
 

Medicine Grand Rounds
GW
(Optional)

 
1:00
 
 
Didactic Lecture Series
VAMC/GW
 
 
4:30
 
Journal Club
VAMC
(2nd and 4th Tuesdays)  
 
 
 
 
Core Lecture Series

The year commences with twice weekly conferences throughout the summer that take place at Washington Hospital Center and Georgetown in conjunction with many endocrinology fellowship programs in the area. These conferences are an introduction to a broad range of endocrine topics and diseases and draw in faculty from the area. Additionally there are lectures in radiology and diagnostic testing.

Endocrine Grand Rounds

Guest speakers and Endocrine Division members review contemporary clinical, translational, and basic research topics. Each endocrine fellow typically presents two conferences per year.

Journal Club

The journal club is held jointly with the Washington Hospital Center endocrine fellows and faculty every 2nd and 4th Monday. For each journal club, two articles from the current medical literature are presented by fellows or residents and critically reviewed.

DXA Conference

Fellows meet with endocrine faculty to interpret and review DXA bone density studies once a month.

Washington Hospital Center Conference

When at the VA, endocrine fellows and faculty are invited to attend the Washington Hospital Center/Georgetown Hospital weekly Endocrine Grand Rounds and Thyroid Conferences. GW endocrinology fellows often present at Thyroid Conference.

Special Events

Our fellows also have several events throughout the year that complement their learning. This includes:

An ultrasound course at Walter Reed in the beginning of the academic year with other training programs in the area.
Continuous Glucose Monitor (CGM) day at GWU
Insulin Pump Day at GW
Advanced Insulin Pump Day at GW
Patient Communication Skills Session in the Simulation Center at GWU
Research and Scholarly Projects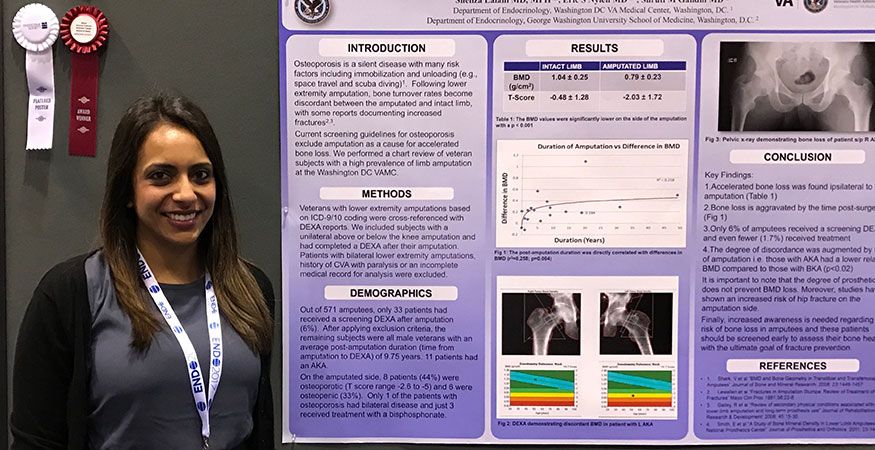 Each fellow is expected to participate in a substantive scholarly project during fellowship training. Projects may include:
Research: A research project may involve any one of several types of investigations, including single case reports, review or meta-analysis, clinical research, or basic/translational research.
Clinical Quality Improvement: Clinical project (inpatient or outpatient to measure specific quality indicators or institute a new clinical protocol with specific endpoint measures
Special Projects: May include educational programs for medical students or residents, public health projects, health policy, etc.
Project Development
Within the first three months of fellowship, each endocrine fellow should meet with faculty members and discuss potential projects. A specific project should be decided at the midway point of the first academic year, and a detailed project proposal including a timeline for completion should be prepared and reviewed with the program director. Fellows who successfully complete a meritorious project will be encouraged to present the results at an appropriate venue (i.e., the Endocrine Society Annual Meeting).
Mentor
Each fellow should chose an Endocrine Division faculty member (GW or VAMC) as mentor for her/his project. 
Research Elective
Fellows will each have one month of research/clinical elective time during year one of training and two months of research elective time during year two of training.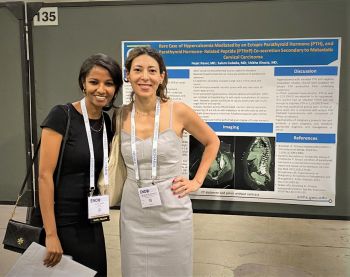 Recent fellows' presented or published case reports and review articles:
Adrenal carcinoma presenting as hirsutism
Diabetes insipidus in malaria
Hibernoma and pheochromocytoma
Lithium in the management of Graves' disease
Anorexia nervosa and persistent pituitary dysfunction
Thyrotoxic periodic paralysis
Case series on Cowden Syndrome
Recent fellow's presented or published research studies:
Micro RNA markers in diabetic nephropathy
Diffusion tensor imaging: Radiological findings in middle aged US veterans with type 2 diabetes mellitus.
Pre-operative parathyroid venous sampling in patients with non-localizing primary hyperparathyroidism.
Fitness impact on renal function in type 2 diabetes
Mortality risk association between exercise capacity and obstructive sleep apnea in men with type 2 diabetes mellitus and/or hypertension
Sequencing of the androgen receptor gene in a transgender individual with partial androgen insensitivity
Utility of continuous glucose monitoring during exercise in patients with type 2 diabetes
Effect of continuous glucose monitor on food choice, activity, and lifestyle in type 1 diabetes
Denosumab and change in glomerular filtration rate
Accelerated bone loss in amputees at the VA Medical Center 
Fellows and Alumni
---
Current Fellows | 2021-2023
Salem Gaballa, MBBCh
Medicine Residency: Lewisgale Medical Center (Virginia)
Kelly Le, MD
Medicine Residency: Greater Baltimore Medical Center
Current Fellows | 2022-2024
Layal Esper, MD
Medicine Residency: Seton Hall University - Englewood Hospital (New Jersey)
Post-Residency: Hospitalist, Catholic Medical Center (New Hampshire)
Amira Ibrahim, MBBCh
Medicine Residency: Florida Atlantic University
Current Fellows | 2023-2025
Jessica Khoury, MD
Medicine Residency: Roger Williams Medical Center - Boston University School of Medicine
Aisha Parihar, MD
Medicine Residency: WellSpan Health York Hospital (Pennsylvania)
---
Alumni Fellows
2022
Nejat Naser, MD
Medicine Residency: The George Washington University
Post-Residency: Hospitalist, Kaiser Permanente (Washington, DC)
Post-Fellowship position: Endocrinologist, Kaiser Permanente (Washington, DC)
Hira Shakeel, MBBS
Medicine Residency: Greater Baltimore Medical Center
Post-Fellowship position: Endocrinologist, Bayhealth Hospital, Kent Campus (Dover, DL)
---
2021
Surosh Nazeer, MD
Medicine Residency: University of Maryland, Prince George's County Medical Center
Post-Fellowship position: Endocrinologist, Greenway Endocrinology (Greenbelt, MD)
Maryam Movassaghian, MD
Medicine Residency: Greater Baltimore Medical Center
Fellowship: Geriatrics at University of Maryland
Post-Fellowship position: Endocrinologist at MedStar Montgomery Medical Center (Olney, MD)
---
2020
Farah AlSarraf, MD
Medicine Residency: University of Utah
Fellowship: Metabolic Bone Disease at McMaster University (Canada)
Harleen Dehal, MD
Medicine Residency: Sinai Hospital, Baltimore
Post-fellowship position: Endocrinologist at Eastern Maine Medical Center
Preethi Padmanaban, MD
Medicine Residency: St. Elizabeth's Hospital
Fellowship: Geriatrics at George Washington University
Post-fellowship position: Endocrinologist at Hamilton Medical Center (Dalton, GA)
---
2019
Munaza Akunjee, MD
Medicine Residency: Providence Hospital
Post-fellowship position: Endocrinologist at Washington Hospital Center
Sasan Fazeli, MD
Medicine Residency: Providence Hospital
Post-fellowship position: Oncological Endocrinologist at City of Hope (Duarte, CA)
---
2018
Sana Akbar, MD
Medicine Residency: University of Tennessee
Post-fellowship position: Endocrinologist at Greenway Endocrinology (Greenbelt, MD)
Amani Alameer, MD
Medicine Residency: George Washington University
Post-fellowship position: Endocrinologist at Medstar, St. Mary's
Enas AlZaghal, MD
Medicine Residency: University of Arizona
Post-fellowship position: Endocrinologist at University of Nebraska affiliate
---
2017
Preethi Kadambi, MD
Medicine Residency: Howard University
Current position: Endocrinologist at University of Maryland, Baltimore Washington Medical Center
Sheliza Lalani, MD
Medicine Residency: George Washington University
Current position: Endocrinologist at Bayly Medical Clinic, Toronto, Ontario, Canada
---
2016
Naima AlFaraj, MD
Current Position: Consultant Endocrinologist, Dr. Sulaiman Al Habib Medical Group, Al Zahra General Hospital (Qatif, Saudi Arabia)
Kriti Gupta, MD
Current Position: Endocrinologist, Baylor, Scott, & White Health (TX)
Resmi Premji, MD
Current Position: Endocrinologist, Montage Medical Group, Marina, CA
---
2015
Jamil Addas, MD
Current Position: Consultant Endocrinologist, International Medical Center (Jeddah, Saudi Arabia)
Ishita Prakash, MD
Current Position: Endocrinologist, Pierremont Endocrine Center, Shreveport, Louisiana
Nira Roopnarinesingh, MD
Current Position: Endocrinologist, Division of Endocrinology, Albany Medical Center
---
2014
Shruti Gandhi, MD 
Current Position: Endocrinologist, Veteran's Affairs Medical Center
Assistant Professor of Medicine, George Washington University School of Medicine, Washington, DC
Catherine Luz Tello, MD 
Current Position: Endocrinologist, Food and Drug Administration (Washington, DC)
---
2013
Hawaa Al Mansouri, MD
Current Position: Deputy Director, Imperial College of London Diabetes Center, Abu Dhabi, United Arab Emirates
Tanu Chandra, MD
Current Position: Endocrinologist, Atrium Health at NorthEast Endocrinology – Monroe (Monroe, NC)
David Ni, MD
Current Position: Endocrinologist, Maryland Endocrine, Columbia, Maryland
---
2012
Manchin Chang, MD
Current Position(s): Endocrinologist, Diabetes and Endocrinology Associates | Clinical Assistant Professor of Medicine, Brown University Alpert School of Medicine, Providence, Rhode Island
Adline Ghazi, MD
Current Position: Endocrinologist, Diabetes and Endocrine Center, Director of Diabetes Care, Good Samaritan Hospital (Baltimore, MD)
---
2011
Khalid Alswat, MD
Current Position(s): Vice President of Graduate Studies and Scientific Research, Professor of Medicine; Internal Medicine, Diabetes and Endocrinology Consultant; Certified Clinical Densitometrist, Department of Medicine, Taif University School of Medicine (Taif, Saudi Arabia)
Jeffrey Mindel, MD
Current Position: Endocrinologist, Bay West Endocrinology Associates, Baltimore, Maryland
Jonathan Welden, MD 
Current Position: Endocrinologist, The Baton Rouge Clinic AMC, Baton Rouge, Louisiana