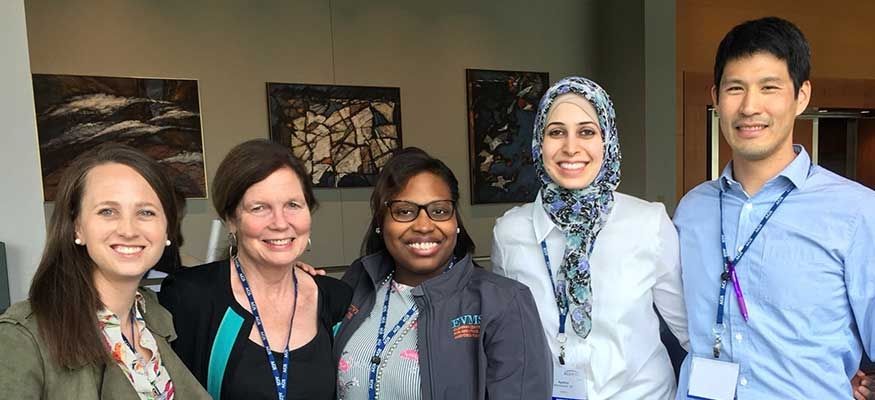 Fellowships and Electives 
Geriatric Medicine Fellowship

The ACGME accredited George Washington University School of Medicine and Health Sciences Geriatric Medicine Fellowship provides one-year training and experience in an unsurpassed range of clinical settings.  It promotes physician leaders with expertise in teaching, quality improvement and interdisciplinary team-building. Training settings include geriatrics clinics, memory disorders clinic, home care programs, inpatient rehabilitation, acute care hospital, hospice, assisted living and skilled nursing facilities. Weekly core conferences, a master teacher training program, Vital Talk skill development, quality improvement projects and personal mentoring prepare fellows to be expert clinicians, master teachers, medical directors and leaders in Geriatrics.

Hospice and Palliative Medicine Fellowship

The ACGME accredited George Washington University Hospice and Palliative Medicine Fellowship is a one-year program that offers a variety of clinical settings and prepares fellows to assume roles of physician leaders, master teachers and quality improvement experts.
---
School of Medicine and Health Sciences
Undergraduate Medical Education (MD Program)

At the GWU School of Medicine and Health Sciences, our clinicians are pioneers and leaders in education for medical students. GW's unique longitudinal Professional Development course is spear-headed by Christina Puchalski, MD, an international leader in spirituality and palliative medicine, in partnership with faculty leadership from other divisions. Defined themes in Ethics and Human Behavior and Development ensure foundations in medical ethics, aging, and palliative medicine principles are integrated throughout the preclinical and clinical programs. Our faculty teach throughout the clinical clerkships and are core faculty in the Longitudinal Primary Care and Primary Care rotations. Medical students at GW have the opportunity to work directly with our faculty clinicians at clinical training sites throughout the district including at GWUH, the DC VA, our continuing care retirement community, and in individual homes through our Housecalls Program. Our faculty help students explore how the unique needs of older adults and chronically or seriously ill adults are important across all medical specialties and in population health. We train our medical students to have the skills necessary to care for these patients with skills that are applicable across any future areas of clinical practice.

Physician Assistant Training Program (PA Program)

The Geriatrics and Palliative Medicine faculty support a week-long focused curriculum on geriatrics and palliative medicine in the graduate physician assistant training program.  Through this multidisciplinary course, students gain increased awareness of the epidemiology of chronic illness in the older adult and the impact on functional status and quality of life. Students learn geriatrics and palliative medicine principles with an emphasis on the importance of function, care systems and models of care, medication risks, and integrating family in complex decision making. Students learn how to support older adults and persons with chronic and serious illness and how to engage them and their families in health care decision making to address issues that impact their quality of life.

Internal Medicine Residency

In the George Washington University Internal Medicine Residency, residents work alongside our faculty in Geriatrics and Palliative Medicine to deliver comprehensive care to DC's oldest adults and persons with chronic and serious illness. Residents learn to explore how individual's diverse values, preferences, and beliefs inform how they receive and seek care during times of critical and progressive illness. Our faculty lead residents in developing skills to address the health concerns of older adults and problems associated with advancing age, with considerations of health priorities, independence, function, and quality of life as defined by any individual.  Residents learn how to perform complex decision making that is collaborative and interdisciplinary to meet the complex, real-world practice that is required to care for aging, chronically, and serious ill adults. Alongside our board-certified geriatrics and palliative medicine faculty in the hospital, clinic, nursing home, and housecalls programs, residents learn to care for adults with multiple chronic illnesses and to learn how to manage symptoms that can be addressed to improve quality of life.
---
Electives
MED 342: Geriatric Medicine/Palliative Medicine

Students are welcomed to participate in this clinical and/or research experience in the practice of geriatric medicine and/or palliative medicine. Clinical sites may include a range of settings, including hospital, skilled and intermediate long term care facilities, congregate housing arrangements, outpatient practice, hospice and home visits. Students may be placed at GW, the DC VA, or other practice sites with our faculty. Flexible experiences may be available depending on the interest and background of the learner. Some learners will have opportunities to visit senior centers and day care facilities and work with other health professions including social work, nursing, and rehab professionals.

Course Duration: 2 or 4 weeks

Evaluation method: Clinical (subjective) evaluation; oral presentations on topic of interest

MED 402: Palliative Medicine Elective

Fourth year medical students may elect to gain clinical experience in palliative care at hospice sites, palliative care at GW Hospital, and the GW Medical Faculty Associates (MFA) outpatient palliative care clinic.
---
Other Educational Fellowships and Initiatives
GWU School of Nursing

Our Geriatrics and Palliative Medicine Division recognizes the importance of supporting and participating in education for all future health care providers. We support geriatric and palliative medicine education programs with the GW School of Nursing including the Adult-Gerontology Primary Care Nurse Practitioner MSN Program.

GWU School of Public Health

The GW Milken Institute School of Public Health is a leader in scholarship to advance the health of populations in our community and abroad.  Our faculty in the Division of Geriatrics and Palliative Medicine partner in research and education with the school of public health, providing invaluable clinical perspectives to inform research through research partnerships and education of future researchers.