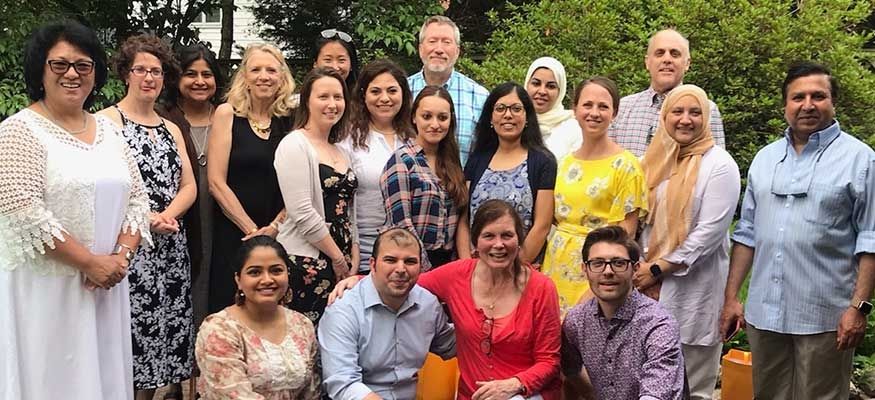 Our mission is to improve the health and well-being of elderly persons and those with serious illness through compassionate and skillful multidisciplinary care. As geriatric and palliative medicine clinicians, we focus on what matters most to patients and their families to deliver high quality person-specific care. We are committed to education across our university. We are very proud that we sponsor the first and largest fellowship training program in geriatrics in the Washington metropolitan area and hosts its largest fellowship in palliative medicine.

Why Choose GW?
At GW we are committed to providing the best care possible to persons with serious or chronic illness and to older adults in the later stages of life. These persons have unique needs and we are committed to ensuring that current and future clinicians have the skills necessary to meet the needs of our aging population and the needs of persons with serious illness. This is a commitment informed by our deeply seated beliefs in the need to provide empathic care focused on what matters to patients and their families, to minimize pain and suffering, and to optimize function to support independence.
Our division recognizes how important it is to engage with our local community and support the university's mission to be a leader in research, innovation, education, and high-quality health care. Our faculty are leaders in many community and university programs, contributing actively to this mission. We are international leaders in spirituality and wellness, national leaders in integrative medicine, and regional leaders in building age friendly communities. We are leaders in education at GW throughout undergraduate and graduate medication. Our faculty are committed to ensuring that clinicians have the skills necessary to deliver patient-centered, empathic care to adults living with complex or serious illness and those in need of support to maximize independence in the latest stages of life. We embrace this; it informs who we are and how we practice medicine. We are a dynamic team working together and welcome learners, researchers, and clinicians to join us in our commitment to ensuring the best possible care is available to persons with complex or serious illness and those aging from the greatest generation.
---
Life expectancy in the United States has so improved that the fastest growing population in the United States are those individuals over the age of 85. Our board-certified geriatrics and palliative medicine specialists at The George Washington (GW) Medical Faculty Associates (MFA) provide comprehensive care for medically complex patients. We are committed to education across our university and local community. Clinical services including primary and preventative healthcare, medical and cognitive assessment, management of acute and chronic health problems, memory disorders, and palliative medicine consultation. Continuity is important to us, and so we follow our patients in the clinic, in the hospital, in skilled nursing facilities, in the home and in hospice care.
Based at MFA, our dynamic faculty include experienced and board-certified geriatric and palliative physicians, advanced practice practitioners, nurses, as well as a full- time social worker. Our fellowship programs are led by outstanding faculty at the DC Veterans' Affairs (VA) Medical Center Division of Geriatrics, Extended Care and Palliative Care. Their faculty of physicians and advanced practice providers are active in our educational initiatives and partners in our education commitment.
Division Information
Patient Care Services

The Geriatrics and Palliative division of the Department of Medicine offers a range of clinical patient and care services, including

Comprehensive Geriatric Clinic
Housecalls Program
Memory Evaluation and Treatment Clinic
Palliative Medicine Program
Hospital Based Programs
Center for Integrative Medicine
DC VA Medical Center

Educational Programs

The Geriatrics and Palliative Medicine division offers a wide variety of educational and training opportunities. Including:

Fellowships and Electives

Geriatric Medicine Fellowship
Hospice and Palliative Medicine Fellowship
GW Integrative Geriatrics and Palliative Medicine Fellowship Program

School of Medicine and Health Sciences

Undergraduate Medical Education (MD Program)
Physician Assistant Training Program (PA Program)
Internal Medicine Residency

Electives

MED 342: Geriatric Medicine/Palliative Medicine
MED 402: Palliative Medicine Elective

Other Educational Fellowships and Initiatives

GWU School of Nursing
GWU School of Public Health

Research & Innovation

The Geriatrics and Palliative division of the Department of Medicine offers a range of clinical patient and care services, including
For Patient Care information or inquiries, please visit the GW Medical Faculty Associates.