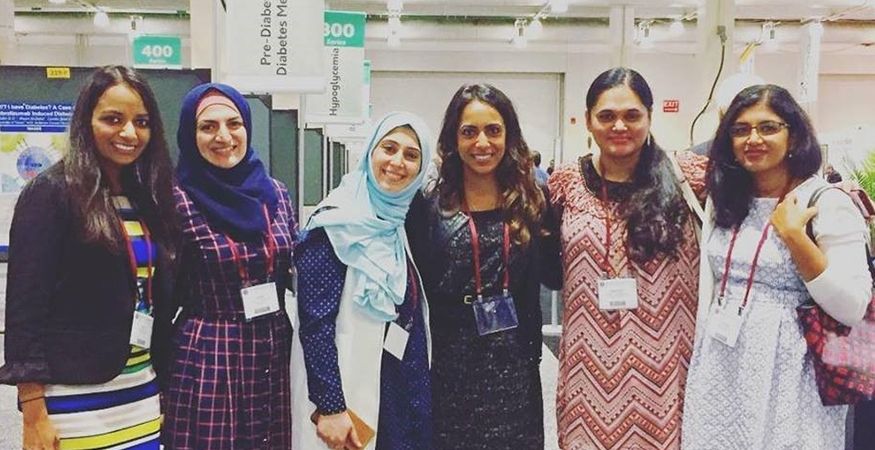 The Division of Endocrinology and Metabolism performs a full range of clinical and academic activities including primary and referral care of patients with endocrine disorders, teaching and research.
Patient Care Services

Physicians and health care professionals in the Division of Endocrinology & Metabolism provide comprehensive evaluation, diagnosis, treatment and management services of endocrine disorders including diabetes, thyroid diseases, bone and mineral disorders, adrenal and pituitary diseases, endocrine tumors and reproductive disorders.  Because endocrine dysfunction can have widespread effects, endocrine disorders are oftentimes best treated by a multi-specialty team. At GW MFA, endocrinologists work with cardiologists, surgeons, ophthalmologists, obstetricians, podiatrists, kidney doctors and many others in our multispecialty practice to provide comprehensive management of complex endocrine disorders.

The Diabetes Center provides comprehensive care to patients with diabetes including medical management of diabetes, diabetes education and dietary counseling, management of gestational diabetes and diabetes during pregnancy, as well as advanced technologies including insulin pump therapy and continuous glucose monitoring.

Specialized diagnostic procedures performed by our endocrinologists include thyroid sonography and fine needle aspiration of thyroid lesions as well as hormone stimulation and suppression testing.

The endocrinology team encourages full patient participation in treatment decisions. We believe that clinical management should make sense to our patients and meet their individual needs and priorities. To obtain additional information about our clinical services and to schedule an appointment, visit our MFA website.

Teaching Program

The Division offers clinical endocrinology electives to medicine residents, medical, nurse practitioner and physician assistant students as well as visiting residents and students.  The endocrinology elective provides trainees with the opportunity to participate in faculty-supervised teaching clinics, consultation service rounds, didactic conferences, and journal club.  PGY-2 and PGY-3 Internal Medicines house-officers should contact their Program Director to apply for a one month endocrine elective. Visiting U.S. medical students should apply through the VSAS system.  International students should inquire through the Office of International Medical Programs.

Research

The research interests of divisional members include calcium and phosphate metabolism, adrenal pathophysiology, thyroid hormone physiology, pituitary function and growth hormone physiology, as well as disorders of carbohydrate and lipid metabolism, reproductive endocrinology and the endocrinology of cancer. The division actively cooperates with other clinical and basic disciplines within the medical center, including the Department of Obstetrics and Gynecology, the Endocrine Fertility and Sterility Program, the Lipid Research facilities, the Department of Urology, the Department of Physiology and the Department of Pediatric Endocrinology.
Meet our Faculty Explore our Fellowship
Directors
For Patient Care information or inquiries, please visit the GW Medical Faculty Associates.