Mission
The mission of the GW Rheumatology Interest Group is to provide students with opportunities to learn more about the growing field of rheumatology. According to the American College of Rheumatology, the prevalence of adults in the United States with rheumatic diseases is expected to increase by 34% in the next 15 years. Rheumatologists can drastically improve quality of life and prevent disability in patients suffering from these conditions.
The GW SMHS Rheumatology Interest Group will work with physicians in the GW Division of Rheumatology to host guest lecturers and interactive workshops to further educate students on rheumatology as well as provide a means for students to network with professionals in the specialty. Given the importance of rheumatology and its integration into all fields of medicine, the GW SMHS Rheumatology Interest Group helps to train the future of rheumatology.
Student Leadership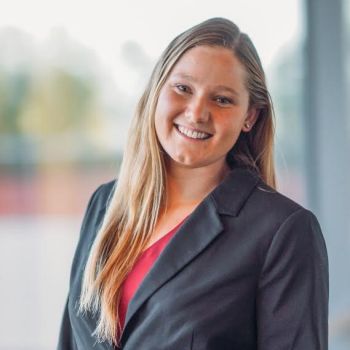 Jessica Gaffney | President is a current second year medical student at the George Washington University School of Medicine and Health Sciences. She graduated from Claremont McKenna College with a BA dual major in Biology and Literature. Jessica is currently the president of the GW Rheumatology Interest Group. Her interest in Rheumatology began when working at the MFA shadowing in the Rheumatology department, especially under the guidance of her mentor, Dr. Mbuyi.  Her interest has continued through learning about Rheumatological diseases both in the clinical setting and in her formal medical education.
Schedule of Student Interest Group Events
| Topic | Time | Date | Room |
| --- | --- | --- | --- |
| Rheumatology Patient Panel | TBA | TBA | TBA |
| Join injection workshop | 9:00 - 11:00 | March 7 2019 | SIM Center |
Dr. Mark Millen Memorial Award in Rheumatology
The Dr. Mark Millen Memorial Award is a George Washington School of Medicine and Health Sciences award given annually to a student in the graduating class who has demonstrated exceptional proficiency in the field of rheumatology. 
Dr. Mark Millen was a member of the MD class of 1980 who trained in medicine and rheumatology. At the time of his death in 1989, he was the director of rheumatology at the Jersey City Medical Center. The award was established with memorial gifts made by family and classmates.
Student-Led Rheumatology Interest Group Increases Interest in Field
A recent study published in the International Journal of Rheumatology shows establishing Rheumatology Interest Group increased student engagement with the specialty of rheumatology. Read more!
Other Information for Students