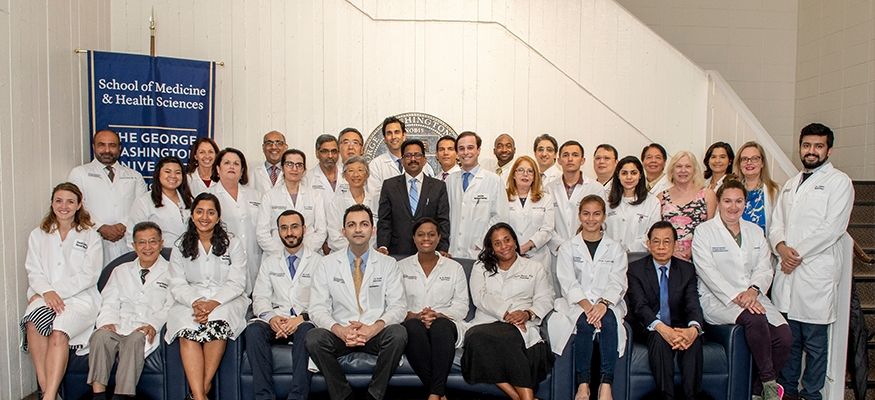 Overview
The division of kidney diseases & hypertension has a long tradition of being at the forefront of innovative research and translating the research to patient care for the past 40 years. We participated in Modification of Diet in Renal Disease study and other innovative studies that revolutionized dialysis therapy. Following on this tradition, we are one of the four institutions in the United States that have been selected to explore novel and innovative therapies in patients with kidney disease. Empowered by the knowledge that comes from research and a painstakingly built infrastructure, we bring state-of-the-art services to our patients. As a tertiary care center, we provide a wide array of services and offer second opinions regarding a variety of diseases to those who seek it.
Division Information
Patient Care Services

The Division of Renal Diseases and Hypertension provides comprehensive care to patients with Chronic Kidney Disease, End-Stage Kidney Disease, Acute Kidney Injury, Hypertension, Kidney Stones,  Inherited Kidney Diseases including Polycystic Kidney Disease, Glomerular Diseases and Electrolyte Disorders at our main location on the University campus and satellite facilities. The inpatient service provides not only traditional hemodialysis, but also peritoneal dialysis, continuous renal replacement therapy, and therapeutic plasmapheresis.

The Ambulatory Care Center of the Medical Faculty Associates is located one block from the University Hospital and is the home to a variety of outpatient clinics, including a General Nephrology, Diabetic Kidney Disease, Kidney Transplant, Chronic Kidney Disease, Kidney Stone, Glomerular Diseases, Renal Ultrasound, and Lupus Nephritis clinic.

Outpatient dialysis care takes place in dialysis facilities all around the D.C. area and Maryland. The GWU-DaVita K Street clinic is located approximately one block from the GW Hospital and Ambulatory Care Center. It provides intermittent hemodialysis for more than 100 patients, and includes a nocturnal dialysis unit and one of the largest peritoneal dialysis units in the region.

Research

The George Washington University Division of Renal Diseases and Hypertension has a long tradition of research in progression of renal disease, renal replacement therapies ,and hypertension. The research from the division improved our understanding about the role of diet and hypertension in the progression of chronic kidney disease and the importance of biocompatibility of the dialysis membrane and flux on patient outcome. Pioneering research performed at the division improved our understanding of the pathogenesis of HIV- related kidney disease.

Center for investigating inflammation in Chronic kidney disease

Chronic kidney disease is a micro-inflammatory state. Inflammation is the key factor that underpins the progression of chronic kidney disease and is recognized to be the factor responsible for accelerated atherosclerosis seen in patients with kidney disease.  Previous research performed at the division by Dr. Kimmel showed that pro-inflammatory cytokines are independent predictors of mortality in patients with end-stage renal disease. Currently, the investigators at the division of renal diseases and hypertension have established a collaborative team of researchers across the world with expertise in basic science and clinical research in order to understand the underlying cause for inflammation in patients with kidney disease and also exploring novel interventions that will decrease inflammation.

Anti-inflammatory therapy in diabetic kidney disease study (AIDKidney study)

Presence of kidney disease amplifies the cardiovascular risk associated with diabetes through augmenting inflammation. In this National Institute of Health funded study, Dr. Raj and his collaborators will examine whether treatment with prebiotics and type 4 dipeptidyl peptidase (DPP-4) inhibitors will decrease inflammation and slow the progression of diabetic kidney disease and also cardiovascular disease.

Gut Microbiota and Atherosclerosis in ESRD study (GMATE study)

Sub-clinical endotoxemia is associated with protein energy wasting and increased mortality in patients with end-stage renal disease. In this study Dr. Raj and his collaborators are examining whether altering the intestinal gut flora with prebiotics and blocking activation of inflammatory signals with pentoxifylline will reduce circulating endotoxin levels and the resultant inflammatory response leading to slowing the progression of atherosclerosis in patients with end-stage kidney disease. This project is funded by the National Institute of Health.

Cytokine gene polymorphism in CRIC cohort study

In this National Institute of Health funded study, Dr. Raj is collaborating with the Chronic Renal Insufficiency Cohort (CRIC) study investigators to examine the role of inflammation in the progression of chronic kidney disease and cardiovascular disease. CRIC is a large observational cohort study funded by NIDDK with the principal aim of understanding the role of traditional and novel risk factors for progression of chronic kidney disease and cardiovascular disease. This study will also examine the genetics of inter-individual variation in inflammatory response.

Hypertension research

Dr. Raj participates in the Systolic Blood Pressure Intervention Trial (SPRINT) funded by National Institute of Health. This  study will examine the benefit of intensive blood pressure control  on cardiovascular disease outcome and progression of kidney disease in patients older than 50. Dr. Raj  also participates  in the Systolic Pressure Intervention Trial Factors Affecting  Atherosclerosis Study (SPRINTFAST) and SPRINT pulse wave velocity study. 

Telemedicine in Peritoneal Dialysis

Dr. Susie Lew will explore the use of telemedicine in peritoneal dialysis to determine whether it can improve adherence, and outcomes while reducing the cost of care. Funded by Center for Medicare and Medicaid Services, this innovative study will include patients in Winchester, VA and Baltimore, MD.

Medical Adherence research

With a focus on hypertension control in high–risk individuals at local community-based clinics, Dr. Patel has partnered with the Cardiology Division to conduct a series of outreach trials to determine if telephoneand mobile phone-based interventions improve blood pressure above standard care. These research studies were funded by the Cheney Cardiovascular Insitute and the McKesson Foundation.

Psychosocial Diseases

The Division has a longstanding interest in evaluating the impact of psychosocial issues in chronic kidney disease patients.  GW has been a leader in evaluating the impact of depression on quality of life and mortality in patients with end stage renal disease.  Current research is focused on interventions to reduce depression and improve the quality of life of chronic kidney disease patients.

Research in Glomerular Diseases

Glomerular diseases are important cause for end-stage renal disease. Dr. Cohen is studying novel therapeutic options for the treatment of glomerulonephritis.  He is examining the expanding role of ACTH and Rituximab in the treatment of glomerular diseases.

MicroRNA and glomerular disease research

MicroRNA (miRNA) is a class of regulatory RNA molecules that mainly suppress the expression of protein-coding genes. Preliminary evidence indicates that miRNA may regulate the progression of glomerular and tubular diseases in the kidney. In collaboration with Dr. Kopp, Dr. Raj is examining whether circulating and urinary miRNA expression patterns have diagnostic and prognostic implications in glomerular diseases.

Acid-base Balance diseases linked to defects in the NBCe1-A cotransporter

The proximal tubule is the site of kidney that reabsorbs 80% of the HCO3 load. Impaired bicarbonate reabsorption in the proximal tubule, diagnosed in patients as Type II (proximal) Renal Tubular Acidosis, is characterized by hyperchloremic metabolic acidosis (or normal serum gaps). One major factor responsible for the defects in proximal transport in Type II RTA is the sodium bicarbonate cotransporter, NBCe1-A, which functions at the basolateral membrane to maintain blood pH. Dr. Gill and colleagues are examining the structure-function effects of naturally occurring mutations (Q29X, R298S) of NBCe1-A. This mentored research is supported by NIDDK.

Gut Microbiota and Chronic Kidney Disease in HIV+ Patients

Development of chronic kidney disease is a relatively common morbidity in HIV+ patients that are on antiretroviral therapy. Dr. Ramezani  is using a humanized mouse model to study the efficacy of prebiotic treatment on reducing the endotoxemia and chronic inflammation in HIV-infected humanized mice.

Sprint Study

Need more information about getting involved and/or enrolling your patients in the SPRINT trial? Resident participation is most welcome!

Learn More About the SPRINT trial.

Learn more information about other ongoing Renal Clinical Trials?
Meet Our Faculty Explore Our Fellowship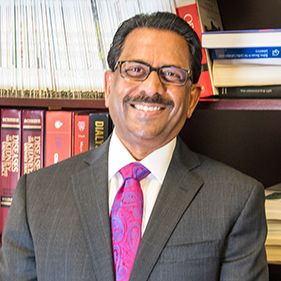 A Message from Dr. Raj, Division Director
The division is committed to educating and training the next generation of scientists and clinicians. Our fellowship program is one of the largest and best in the country and provides unparalleled teaching in all aspects of Nephrology within a most collegial environment. 
Our Fellows and Faculty won the "NephMadness", an international competition that tests their perception and knowledge in nephrology and hypertension- a remarkable feat. 
Read more from Dr. Raj about the GW Kidney Diseases & Hypertension Division.
From the Fellowship Director
Our fellowship program provides a foundation for trainees to use evidence based care for patients with common as well as rare kidney disorders. We are committed, as a group, to scholarly excellence in patient care, education, and research in a collegial learning environment.
Ehsan Nobakht Haghighi, MD, FASN
Fellowship Director
---
For Patient Care information or inquiries, please visit the GW Medical Faculty Associates.