Musculoskeletal Ultrasound for Diagnosis and Treatment
In the hands of trained rheumatologists, musculoskeletal ultrasound is a powerful diagnostic tool. The George Washington University Division of Rheumatology has several physicians who have been certified by the American College of Rheumatology in Musculoskeletal Ultrasound (RhMSUS) to perform diagnostic and therapeutic musculoskeletal ultrasound.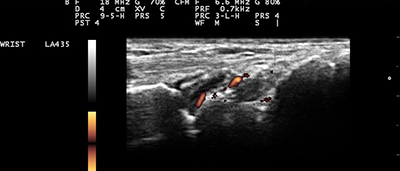 Scientific research shows that earlier diagnosis and treatment of inflammatory joint diseases such as rheumatoid arthritis results in improved outcomes and less likelihood of irreversible joint damage. Using state of the art ultrasound probes, our physicians are able to diagnose and treat inflammatory arthritis earlier, minimizing delays in diagnosis and ultimately improving clinical outcomes for our patients.
In sports and soft tissue injuries musculoskeletal ultrasound offers a safe and accurate alternative to MRI to diagnose rotator cuff disease of the shoulder, bursitis and tendonitis.